A four-sided interlocking shingle
Integrated nail flange
No more clips!
Easier and faster to install
Great for high wind areas
Two nails per shingle
Out-performs other systems
Looks great!
Lasts 2 to 3 generations even in adverse climates!
The system is a four sided interlocking shingle with an integrated nail flange. There is no more need for clips which can be difficult to handle, and the main point of failure in the high wind areas. Our shingle has a four way interlocking design. The top of the shingle, which is covered by the following row, is extended and folded over to keep moisture from driving behind the system. The bottom of the shingle is folded under for a smooth, clean, and finished look. All four major sides interlock with the corresponding shingles.
The application of the system will be easier and faster than traditional clip systems, which will reduce both material and labor cost.
What makes this shingle the best?
Life long roof. The roof will last a minimum of two to three generations particularly in adverse climates.
Great appearance
Durable, particularly in adverse climates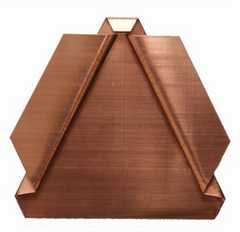 Only nature can produce copper.
Only Zappone can make it so easy to install and so easy to own.
Call 1-800-285-2677 or email us now for more information!